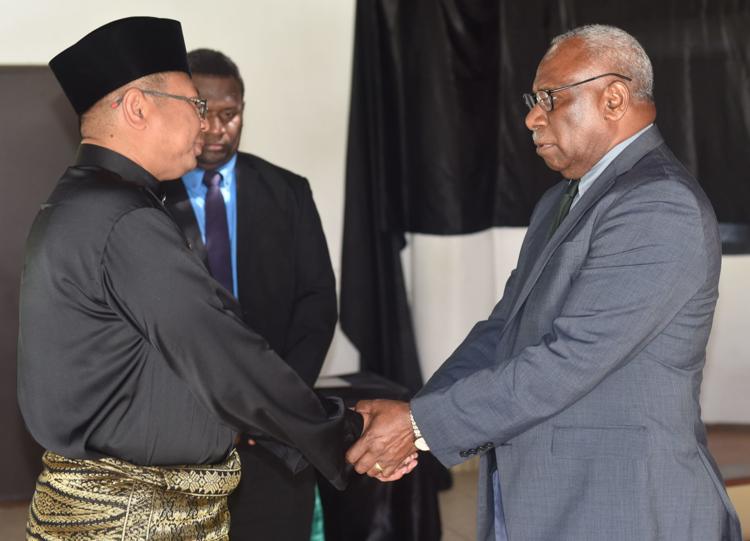 Vanuatu and Malaysia strengthen ties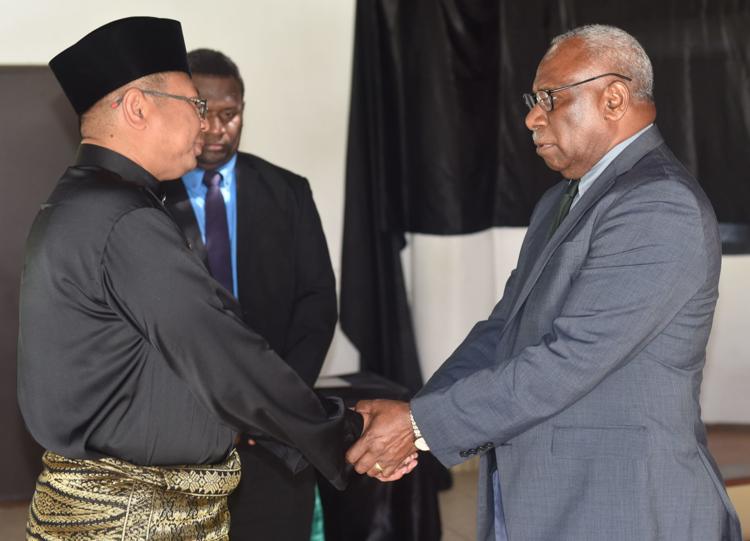 Vanuatu and Malaysia strengthen ties
Both the Head of State, President Obed Tallis, and the new Malaysian High Commissioner to Vanuatu, Mohamad Nasri Abdul Rahman, spoke highly of the importance of maintaining mutual respect, understanding and cooperation between the two countries, when Malaysia new High Commissioner to Vanuatu, presented his letters of credentials to the President earlier this week.
High Commissioner Rahman, commented that Vanuatu has already distinguished herself as a conducive trade and investment destination in the Pacific region and says Malaysia is one of the major importers for Vanuatu.
"In 2018, trade between Malaysia and Vanuatu was recorded at USD 35.9 million and Malaysia private sector continues to have significant presence in Vanuatu.
"Malaysians and Ni-Vanuatu have known each other much longer through people to people contact promoted by business and investment activities," the Malaysian High Commissioner stressed.
The High Commissioner acknowledged that the governments of Malaysia and Vanuatu are stepping up efforts to consolidate mutually beneficial cooperation with focus on important sectors such as information and communication technology, higher education, youth, tourism as well as development on small and medium enterprises.
In response, the Head of State, President Obed Tallis, said Malaysia is an important country to Vanuatu.
"Vanuatu very much treasured the warm and friendly relation it shares with the Kingdom of Malaysia.
"I believe our minister of foreign affairs and international cooperation and external trade Hon. Ralph Regenvanu, will engage in more dialogue with your government to further strengthen our diplomatic ties and also negotiate assistance for future projects that will improve the lives, welfare and wellbeing of our people.
"The two countries also share common positions in the international arena, in particular on the issue of UN nuclear technology and also in the redirecting of military spending to achieve the Millennium Development goals (MDGs)," President Tallis, affirmed.
"The government of Malaysia provides a lot of assistance to the Vanuatu Government through a Malaysian bilateral air programme.
"The two major components of the bilateral aid program with Vanuatu derive mostly from the Malaysian Technical Cooperation Training Programme.
"Malaysia is ranked 15 out of 128 economies for ease of doing business (World Bank, 2019)," President Tallis recalled.
By Godwin Ligo, Vanuatu Daily Post, 16 Aug 2019